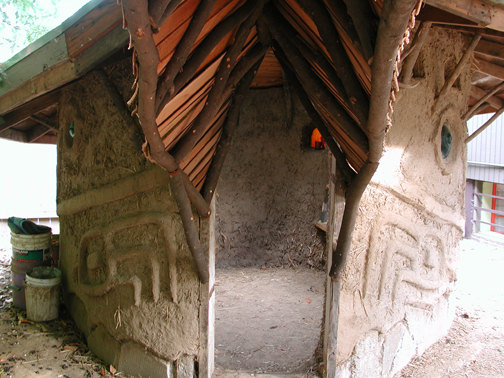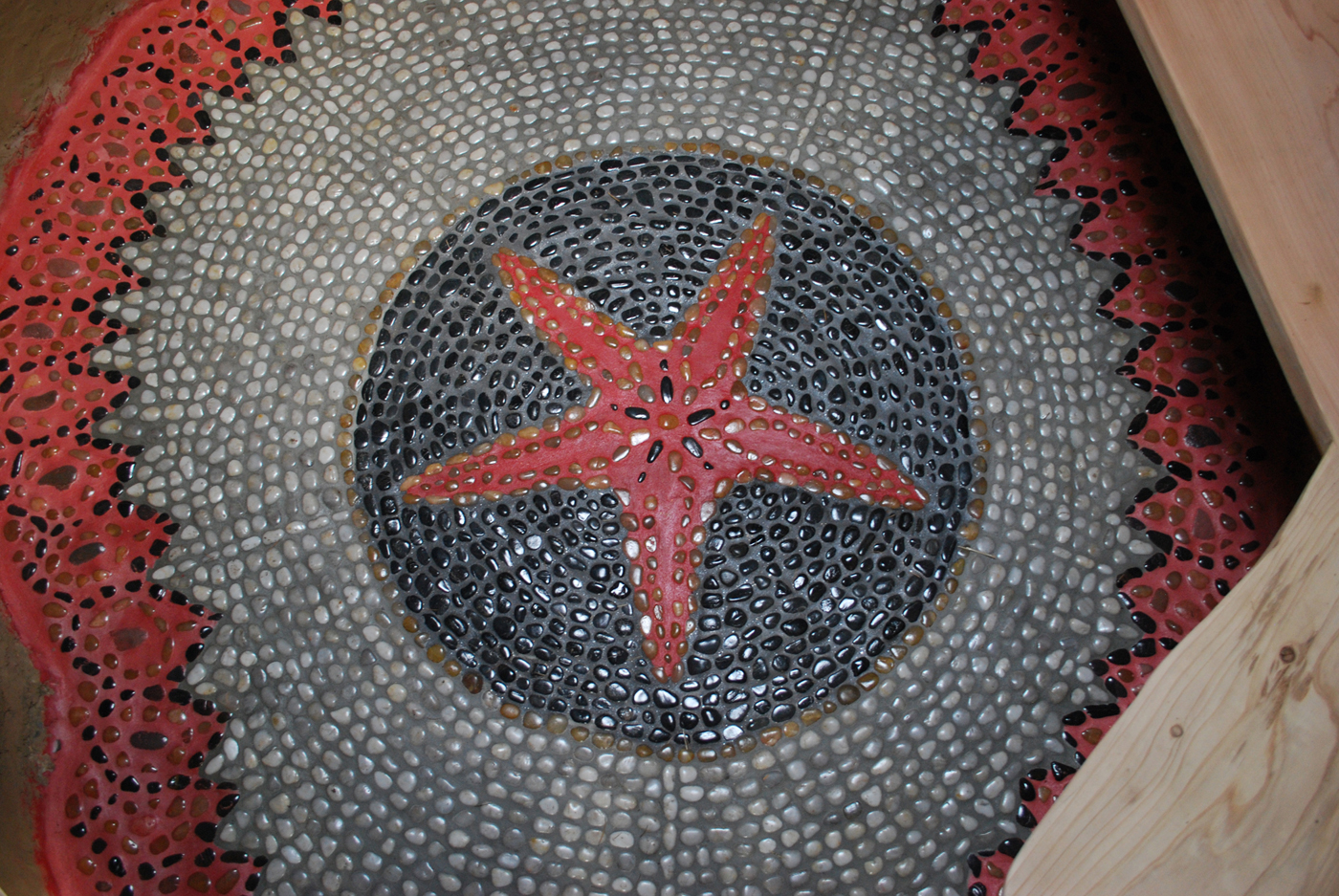 The Dirt Bird
2008
Raven Sauna
design: Vanessa Renwick and Mark Lakeman
Master cob builder: Lydia Doleman
assistant builder: Gordon Fry
A full list of the generous people who helped build the dirt bird are at the bottom of this page.
The surname Renwick means "From where the ravens roost." To commemorate the 100th birthday of her Portland home, Vanessa Renwick, working with Mark Lakeman, Lydia Doleman, Gordon Fry and the human resources of the annual CityRepair Village Building Convergence, brought forth from the mud a raven-headed sauna. From April of 2008 through January 2010, this circular community structure grew into a round earth hut ringed inside with benches. From the floor inlaid with a beautiful river rock mosaic to the shingled roof whose sheltering beak must be dodged by taller sauna-goers, this is a roots-up functional gorgeous healing art space. Visitors lucky enough to enjoy a steam in the Dirt Bird under the urban firs would do well to murmur gratitude to the many cob-molding hands and creative hearts that call such tiny glories into being. Hooray for City Repair! Hooray for Village Building Convergence Volunteers! Hooray for Ravens!
We will be working with Lydia Doleman and Gordon Fry for 9 days. They will be instructing us on how to build cob. Experienced and inexperienced builders are all welcome.
Come for 1 day or all 10!
No dogs are allowed, as there are free-range chickens about and already 3 dogs here. Thanks for understanding!
This house turns 100 years old this year, and I thought it would be nice to spend some time really focusing on giving some love back to it and its grounds. I've been so very fortunate to be living in this house for about 17 years now with my children and various friends and lovers. The first night I slept in it I awoke to a strange noise. It was a crow perched on a banister outside the window, tilting its head and cawing at me. My last name, "Renwick", means, "From where the ravens roost". It seemed fitting to make this cob sauna in the image of a bird.
This place is the headquarters for the Oregon Department of Kick Ass. Hence, a community of artists, musicians and tramps has spent much time here over the years, creating, socializing, entertaining and resting their weary bones. We thought a sauna would be a welcome addition in our frequently damp and chilly climate. This sauna will be open for intermittent use by the community listed above. We're doing our part to keep the riffraff clean!
This land is fortunate to also have "The Love House"on it, built by Mark Lakeman and a lot of kids, originally sited at Whitaker Ponds.
There will be special guests presenting musical hootenannies throughout the Village Building Convergence at this site!
Schedule in 2008
April 27, 10am-4pm, foundation building
May 10, 9am-2pm, foundation building
May 13, 10am-2pm, foundation finish
May 19, roof support structure building
May 24 through the 30th, 9am-4pm, cob, cob and more cob!
May 30, 2 pm-3:30pm, Chickens 101 presented by Tonya Meyer. Interested in chicken ownership? Thinking of adding a feathered flock to your life? Already have chickens, but feel like you might be missing something? Come one, come all to Chickens 101! Our speaker will be covering the basics of chicken care, including Chicken Myths, Basic Terminology, Taming Birds, and Basic Care of your flock. Contact Tonya Meyer cutegirltoo@comcast.net
May 31st, 9am-4pm, cob, cob and more cob!
May 31st, 2pm-5pm, Bird Habitat Restoration. In permaculture design, Zone 4 is where the cultivated meets the wild and we introduce native forage plants that create homes and food for our forest friends. Urbanization is the greatest threat to native birds- bringing more habitat into the city is an important way we can reduce our impact. Thanks to Vanessa, who has been caring for this land and feeding the birds for 15 years, bird communities continuously gather to feed at the future home of the Raven Sauna. Come join restoration specialists from the Audubon to experience the joy of contributing to environmental enhancement project. Learn how to feed native birds without depending on heavily mono-cropped, pesticide dependent birdseed. We will learn how to select, place and plant native plants to cultivate bird habitat that provides food for our feathered friends and us. Educational Birds from the Audubon Society will be joining us for the celebration! Contact Kirsten, 503.544.5922. ancient.forest.faerie@gmail.com Or Tom Costello tcostello@audubonportland.org
June 1, cob, cob and more cob!
June 23-25, relief design building
July 10th, mirror tile mosaic on the skylight
July 12th, beak and living roof building
July 25th, underlayment of roof finished
August 19th and 21st, beginning siding of beak, insulation of roof completed, fascia built and boards to keep the living roof from sliding down attached
August 26 and 28th, beak gets finished, EPDM pond liner gets attached to the roof, flashing is finished,ocularis and plexi skylight is finished, drainage rock is put on roof, dirt is put on roof
October 2nd, the chimney went in!
November 10, Kiln dried, luscious cedar slab from Henry Hansen Farm gets delivered to be used for the door. 60 year old piece of decorative "tulip" glass gets cut for the door window.
November 11, door shape gets figured out and cut, window in door is cut.
November 15, interior of sauna gets first coat of plaster. Redwood seating is added to the cedar seating.
November 16 & 17, exterior of sauna gets plastered
November 19, cement floor gets poured
November 20, bathed the sand off the exterior, painted the exterior body black, mixed up a batch of lime for the interior, stood back and oohed and ahhed a lot.

November 23, started the river rock mosiac on the floor, also worked on the mirror mosaic in the skylight.

November 24, finished the floors' outer border design and the starfish in the center, all in river rock. Door and door frame get to know each other.
November 26, cleaned, sealed and grouted what is down so far. Patched a cob hole where we thought a bench should be, and then decided it was all wrong.
November 28, cleaned up the inside a bit in prep for plastering, painted the outside designs red. Abandoned the idea of plastering the inside until the door gets in place. A few rocks that loosened in the mosaic got re thinset down.

December 2nd. Picked up more grout. Door got installed, sanded and sealed.

January 14 2009 - worked on the river rock mosaic some more
January 18 - Got some copper for the chimney cap.
January 31 - Door got worked on some more.
February 4 - More floor work. Finished the red and black grout and sealed it all.
February 15 - Spread red lava rock around the outside perimeter, and cleaned up a lot of construction debris.
February 16- Put a final coat of surface sealer over the grout on the design work in the floor.
May 15-Surrounded the Dirt Bird in wood chips
June 21-Finished cobbing above the door
July 24,25 & 28th-Finished laying the river rock mosaic on the floor and grouted and sealed it. This was probably the hardest part of building the sauna so far. It is crazy beautiful though.
September 25-Three vent holes drilled in the cob walls
October 10- Cobbed above door. All cob is done now.
October 30- picked out ochre tint for interior lime plaster
November 21- Interior plaster party
November 25- Moved the heavy ass stoveinside the sauna
December 14- Copper chimney cap made and installed
December 30- chainsawed a lot of branches away from the chimney radius
January 6, 2010-cleaned up the sauna, inside and out
January 10, 2010- First sauna taken with 5 other lovely ladies. It works! Really well!
January 13 - Fire extinguisher arrives as a gift to the Dirt Bird!
***************************************************************************************************************
Musical entertainment provided by:
Larry Yes, Tara Jane ONeil, Jef Brown, Moe Bowstern, Kristina Davies and Izzakate Mc Gowan
Food Wrangler extraordinaire: Ana Helena DeCastro
Most delicious food donations from:
Mississippi Pizza, Laughing Planet, La Bonita, 5th Quadrant, Muddy's Coffee House, Pizza a-go-go, Cup and Saucer,Beaterville,The Nicholas, VooDoo Doughnut and Naomi and Ana
***************************************************************************************************************
Here is an incomplete list of all the superfine folk who came out to help build this giant dirt bird.
If you helped out and your name is not here, please do let me know. And a gigantic thank you to everyone!
Lydia Doleman
Gordon Fry
Mark Lakeman
Vanessa Renwick
Montana Maurice
Dwayne Hedstrom
Tom Costello
Steph, Adam, Brinn and Ander Pierce
Rev. Phil Sano
Matt Phillips
Ana Helena DeCastro
James Harrison
Brendan Flanagan
James Davis
Katie Burkhart
Icky A.
Larry Yes
Sare Rane
Rebecca Rowe
Bethany Cook
Andrew Mac Kirnon
Anthony Novelli
John Archer Douglas
Corinna Capen
Chelsea Peil
Chloe Eudaly
Jason and Melissa Luna
Sydney Weaver
Lindsey Cummings
J. Ineill-Butler
Pedro Tejada
Margaret Beeson
Suzanne Parenteau
Brian Lacy
Tuployme
Jahan Khalighi
Jim Keuer
Freye Bass
Matt Iverson
Matt Franklin
Tim Bailey
Angie Travis
Randy Lesser
John Spurlin
Roberto Casanueva
Dana Trocker
Katie Montgomery
Alaska
Trina
Matt Dorfman
Daniel Johnson
Kari Greenway
Sheila McShane
Matt Fraver
Betsy Natter
Diana Villalpando
Tracy Vargas
Andrea Brodie
Rayanne Marie
Vera
Zanroe Zeroga
Jason Ron
Josh Miller
Stan Addison
Will Gaither
Robin Urton
Rief Aliah
Joe
Maura Jess
Steevie
Dee
Eliot
Lupe Cobarrubias
Emily Galash
Damek Maurice
Spencer Consonantia
Dawn Jones
Katie Greenhoot
Amy Franceschini
Deepah
Emmy Mc Gowan
Cynthia Lahti
Jeni Falldine
Jessie
Katie Jayne Selin
Mark Buchweitz
Sarah Farahat
Shiela McShane
Shoshana
Trevor Blackann
Billie
Tricia Peebles
Valerie
Aimee Fitzpatrick
Marina Mac Michael
Tom Fitzpatrick
Chris Andrews
Margarita Molina