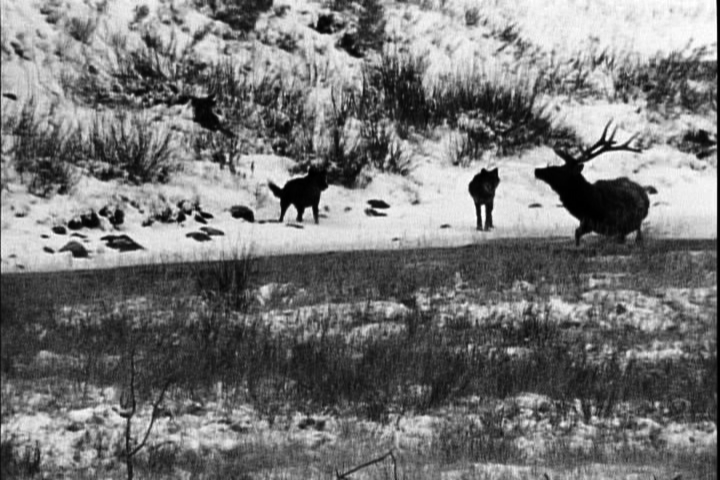 Hunting Requires Optimism
2003, video installation, ten refrigerators, nine b&w silent video channels (displayed inside refrigerators), one audio channel

synopsis:
The refrigerator, that great beacon of fulfillment, represents an entirely different landscape. A symbol of promise and hope, this beloved appliance takes on a whole new meaning in Hunting Requires Optimism. Visitors yearning for that unidentifiable something are invited to open each of 10 refrigerators on display. Instead of finding a snack to satisfy a craving, however they discover a television monitors with 9 different video loops of wolves stalking, often not catching, and only once taking down and eating prey in snowy wilderness. The video presentation offers viewers an opportunity to ponder their place in the food chain and the predator/prey hierarchy, and to fully appreciate the refrigerator as a frozen tundra.
Hunting Requires Optimism focuses on a segment of the hunt as experienced by the North American gray wolf. A failure rate as high as 90% is recorded in studies of wolves' hunting attempts.
credits:
cinematography: Bob Landis
premiere:
Core Sample
Portland, Oregon
Oct. 11-19, 2003

This piece has been presented at the following venues:
Sun Valley Center for the Arts
Ketchum, Idaho
Nov. 5, 2004-Jan. 14, 2005
The S.F. Exploratorium
San Francisco, California
Feb 17- May 30, 2005
Budafest
Kortrijk, Belgium
Oct 13-26, 2006
Jordan Schnitzer Museum of Art
Eugene, Oregon
April 25- July 17, 2014